While you may not feel the need to clean your old reliable pump action shotgun after every hunting trip, it's going to have to be done eventually. It's true that modern advancements in firearms technology, such as better finishes, allows you to go longer in between cleanings, it is still something that needs to be done. If you have a semi-automatic shotgun or another more finicky design, then cleaning is something you are going to have to do a lot more of. Either way, a good cleaning kit is going to be absolutely necessary in the proper maintenance of your shotgun. Read more to find the top shotgun cleaning kit in 2022 for you.
Short On Time? Here Is The Bullet List
**Below are our more detailed reviews. Click the links above to see current prices or read customer reviews on Amazon.
What to Look For in a Shotgun Cleaning Kit
In any major shotgun kit, you are going to have 3 basic cleaning components: a bore brush, a bore mop, and a cleaning rod. Since the barrel of a shotgun is what's going to need to be cleaned the most, these are often the only tools you need to do a quick cleaning after a hunting trip. If you do a lot more shooting in between cleanings, or you have a more complicated or finicky semi-automatic rifle, you are going to need a much better cleaning kit. The addition of picks, utility brushes, and maybe a punch or two are going to be required to disassemble your shotgun and give it the clean that it really needs to operate properly.
Bore Brushes
When it comes to a good shotgun cleaning kit, your set of bronze bore brushes should look almost exactly like any other cleaning kit, only bigger. Since the 5 most common sizes are going .410, 20ga, 16ga, 12ga, and 10ga, you are not going to have to have a wide variety of different bore brushes. In many cases, a 20ga and 12ga brush will be all that you need. You will have to make sure that the kit you are buying has the correct sized brushes as rifle and pistol caliber bore brushes will be way too small to effectively clean your shotgun. These larger brushes are going to be a bit more expensive, but you are also going to need a much smaller selection, so it will all even out.
Bore Mops
A shotgun cleaning kit is generally the only kit that I consider the addition of bore mops to be a bonus. Since shotgun barrels don't get nearly as dirty or corroded as rifle barrels and cleaning them is a much easier task, bore mops work great for giving the barrel that final shine and coat of oil. A bore mop looks like a large blob of cotton that screws on to the end of your cleaning rod and comes in many different sizes. I tend to stay away from the smaller rifle and pistol caliber mops, but the shotgun mops work great, and I love using them to put the finishing touches on my nice, clean shotgun.
Cleaning Rods
Since shotguns have much larger bore diameters, finding a cleaning rod that fits is never a problem. In this case, you will want to go with the thickest cleaning rod that you can find. It takes quite a bit of force to push those large bronze brushes from breech to muzzle, and the small brass cleaning rod you use to clean your .22 with probably won't cut it. You are going to want a sturdy, thick aluminum or brass rod. You will also need to make sure that you get a cleaning rod long enough. Shotguns typically have much longer barrel lengths than rifles, and a cleaning rod that can run the whole length of your 16" AR-15 with a few inches to spare isn't even going to come close to cleaning your 30" shotgun barrel. You will want to make sure that you get the thickest, longest cleaning rod that you can find to effectively clean your shotguns.
Picks, Brushes, and Punches
These are all cleaning items that you are going to need if you have a more complicated semi-automatic shotgun, or you want to do a very detailed clean of your firearm. A good set of picks (like the kind they use at the dentist) is going to help you get into the nooks and crannies of your shotgun and scrape out that hard to reach fouling. These are a godsend on gas-operated semi-automatic shotguns, as there are numerous crevices where fouling can build up and easily cause malfunctions.
Basic utility brushes are great when it comes to deep cleaning your shotgun. You will want to make sure you get multiple different head shapes and material types, because the more options you have, the cleaner you will be able to get your shotgun. I find that 3 different head shapes (large, notched, and small) and 3 different head types (bronze, nylon, and steel) is enough to do what I need. These brushes are great for cleaning your receiver and any other flat surfaces of your shotgun.
If you want to do a very detailed clean of your shotgun, a few punches are going to be a requirement. Most shotguns can be easily disassembled with only a punch, but some require other tools as well. You will want to make sure you purchase any of those tools separately. Most common shotgun designs, however, have the fire control group held in by two pins, and driving these out will allow you access to remove the trigger assembly and finish disassembling the rifle.
Best Shotgun Cleaning Kits on the Market in 2022
Best Basic Shotgun Cleaning Kit:
If you have much experience with rifle cleaning systems such as the BoreSnake, then this Sage & Breaker will look pretty familiar to you. It features a long lead rope with a small weight for feeding through the barrel, followed by a bronze brush and a cleaning mop, all in one system. No cleaning rod is needed with this kit, as it is all attached to the same rope and all you need to do is pull it through the barrel!
While having everything attached to one string is certainly convenient, you sacrifice quite a bit of utility. Your mop is going to get dirtier much quicker, as you can't run multiple passes of the bronze brush before using your mop. You are also not able to run the mop through on its own to apply a final light coat of oil. While this kit is certainly convenient and affordable, it's place is very clearly in the field. If you are looking for a quick and easy kit to clean your shotgun on the go, then this may be the kit for you.
Pros:
Quick

Easy to use

Compact
Cons:
No utility brushes or picks

No disassembly tools

Lacks the utility of having separate cleaning tools
Best 12 Gauge Cleaning Kit:
If all you have is a basic 12 gauge shotgun that you use for hunting or target shooting, then this may be a great kit for you. It is specific to 12 gauge, the most common shotgun gauge, and includes everything you need and nothing you don't. The thick stainless steel cleaning rod has all of the stability you need to ram that bronze brush through the barrel and breaks down into multiple pieces to fit in a compact case. It also includes a spring brush, which is something few other kits will have. Of course, it also contains the standard slotted tip and cotton mop, but it also includes a utility brush, patches, and an oil bottle (empty, you must add your own oil).
The only real downside to this SPIKA kit is that it is specific to 12 gauge. If you have any other shotguns, or any pistols or rifles, you will probably want to go with a universal kit. It also doesn't include any punches, but a section of cleaning rod will make a pretty effective punch in a pinch. Other than that, this kit is sturdy, compact, and includes everything you need to detail clean your gun. If all you have is a 12 gauge shotgun and you want everything you need and nothing you don't, then this may be the kit for you.
Pros:
Includes a spring brush

Everything you need to clean your 12 gauge

Includes a bottle to hold oil
Cons:
Expensive for a gauge-specific cleaning kit

Does not include a punch
Best Shotgun Cleaning Kit For the Money:
If you are looking for a quality cleaning kit without spending a bunch of money, then you may want to check out this basic, no-frills kit from Real Avid. This kit does limit you to only 12 and 20 gauge brushes and mops, but those are by far the most common gauges of shotguns. It includes everything you need for a quick, basic clean of your shotgun. 12 and 20 gauge bronze brushes to scrub the bore, a slotted tip and patches to get most of the fouling out, and 12 and 20 gauge mops to wipe the bore clean.
This kit comes with a 7 piece cleaning rod, which can be both a blessing and a curse. This gives you a total length of 33 inches while still making a compact kit, but the rod can be both a pain to assemble and lack stability from all the threaded joints. Also, multi-piece cleaning rods are notorious for coming unscrewed during use, but this is a problem whether you have 2 pieces or 7. Those things aside, however, this is an excellent basic cleaning kit that is compact and will get the job done, all at an affordable price.
Pros:
Compact

Affordable

Cleans both major gauges
Cons:
7 piece cleaning rod

No brushes or picks
Best General Use Shotgun Cleaning Kit:
If you are looking for a great general use shotgun cleaning kit, then this super deluxe soft sided cleaning kit from Winchester may be just the kit for you. This kit is loaded with features, with an ample amount of bore brushes and mops, with a great selection of slotted tips and cleaning jags as well as patches. One of the things that really sets this kit apart is the selection of pics and brushes. This kit contains every brush and pick you need to ensure a deep detailed clean of your shotgun.
If you are just a shotgun owner, you are going to be paying for some things that you don't need with this kit. This is a universal gun cleaning kit and includes brushes and mops for rifle and pistol calibers as well. This can work to your advantage, however, as I have used small bronze bore brushes numerous times on my shotguns to help me get into nooks, crannies, and small pin holes. If you are looking for a complete kit that can really do it all, this may be just the kit for you.
Pros:
Great selection of brushes and picks

Individually cased brushes and mops

Nice storage case
Cons:
Bulky and difficult to transport

Includes tools you don't need to clean shotguns
Best Shotgun Cleaning Kit with Squeeg-E:
If you are on board the Squeeg-E train and have no intention of ever looking back, then this kit from Remington just might be your ticket. This soft silicone bore cleaner from Remington has revolutionized the way I clean my firearms, saving me time, hassle, and money. This kit includes an ample supply of Squeeg-es to fit any bore, as well bronze brushes and a 4 piece, 38-inch brass cleaning rod. You will also get some cleaner and oil, and 2 utility brushes.
This kit looks perfect at first glance, but when you really get into the meat of things you will find a few shortfalls. For example, the 4 piece cleaning rod is designed to fit down the barrel of a .22lr and can be a bit flimsy when it comes to cleaning shotguns. Also, the oil and cleaner included are Remington's proprietary products, and to be frank, are not any good at all. When it comes to just cleaning shotguns, this kit will definitely get the job done but is also built to ride the Squeeg-E hype train. If you absolutely have to have the Squeeg-E system, then this would be a great kit for you. Otherwise, I would look for a kit with more features.
Pros:
Includes the Squeeg-E cleaning system

Includes utility brushes
Cons:
Weak cleaning rod

Low-quality oil

Includes a lot of components  you don't need to clean shotguns
Best Shotgun Cleaning Kit Final Thoughts
If you want a cleaning kit that is capable of both deep cleaning and field cleaning all your shotguns, you are going to need a kit that contains an ample quantity of brushes, tips, jags, mops, and picks. While all of the kits listed above are great options for cleaning your shotguns, there is one that stands out well above the rest. The universal cleaning kit from Winchester features everything the other kits have and more and blows the competition out of the water when it comes to utility brush and picks selection. One thing is for certain, with the universal soft-sided kit from Winchester, you won't be at want for any other shotgun cleaning equipment. So now that you have all the information that you need, you can go purchase the perfect shotgun cleaning kit for you today!
Thank you for visiting Reloadingpresso.com. If you like any of the equipment that you see in this article, please click on one of the Buy Now buttons to make your purchase on Amazon. As an Amazon affiliate, we make a small commission off any purchase made from a click through from our website, which is how we are able to provide you with these informative articles. You will not pay more on Amazon by clicking through our website because the price is the same as if you go to Amazon directly. If you're looking for more than what you see here, please review our Best Reloading Kit Buyers Guide and our Best Gun Safe Buyers Guide.
Even More Related Buyers Guides: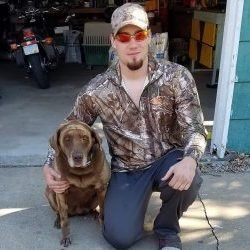 Dan is an avid outdoorsman and shooter who developed a passion for firearms at an early age. When you can't find him in the field chasing birds or big game, you can find him at the range shooting various competitions such as 3-gun, IPSC, and IDPA. He also enjoys manufacturing his own ammunition, as well as both working on, and building his own firearms. Dan has many years of firearms experience, and enjoys helping people find the right gear and sharing his extensive firearms knowledge.