Are you wanting to get into reloading, but don't know where to start or all the equipment that you need? If so, a reloading press kit is a great place to get started. Most popular reloading press kits contain everything you need to get started loading, apart from the dies and consumable components (powder, primers bullets, and cases). While the equipment included in the kit may not be the highest quality, most accurate stuff available, it will be more than sufficient to get you started and gain valuable experience in the vast world of reloading. You will likely end up exchanging out most of the equipment included in the kit for more accurate, higher quality equipment later on, but when it comes to reloading, it can be much more advantageous to learn and make mistakes on cheaper equipment so that you don't waste money on the higher quality stuff. Below you will find a short guide on what to look for in a reloading kit in 2023, as well as a few good options.
Short On Time? Here Is The Bullet List
**Below are our more detailed reviews. Click the links above to see current prices or read customer reviews on Amazon.
Not Into A Kit? Just Press Buyers Guides
What to Look for in a Kit
Quality
A good thing to consider when picking out a reloading press kit is going to be the quality. There are many good press kits out there, and going with the highest quality kit available may not be the best option for you. You will want to balance your needs with the quality of the kit. Not everybody needs to load high quantities of match grade .50bmg ammo, so you may be able to make do with a kit that is cheaper and easier to use.
The three main brands we will be looking at here are RCBS, Lee, and Dillon. Dillon is, far and away, the highest quality press kit we will mention here. It is also the most expensive. RCBS is a good middle-of-the-road press kit, as they are a high-quality manufacturer. Lee makes excellent entry level equipment, at an entry-level price. If you are a beginner, then Lee is a good brand to look at. If you are looking for a step up press kit, then you might want to consider Dillon or RCBS.
Speed
Another thing to look for when choosing your kit is going to be your reloading speed. Are you a casual shooter who only needs to load a few hundred rounds for your monthly range trip? Or are you a high-volume competition shooter who need a thousand rounds a month to keep in practice? These things are going to influence what type of press you get in your reloading kit.
For most beginners, a single stage press is going to be more than plenty to handle what they need. Depending on your methods and how extensive your case prep is, it can take several hours to load 100 rounds on a single stage press. For most people, especially those new to the art of reloading, this is a good thing. It forces you to really slow down and focus on each individual step, which ensures an understanding of the process as well as a quality finished product. These are also the cheapest presses, which make them good for newcomers as well.
A turret press will allow you to load rounds much faster than a single stage press. It still requires the same amount of pulls per loaded round as a single stage, but it eliminates the need to constantly change the dies and shell casing. The turret press is another good option for beginners, as it still requires them to focus on the individual aspects of the reloading process. If you are a new reloader who needs to produce medium volumes of ammo, or an experienced reloader looking to increase their output, then a turret press may be a good option.
A progressive press is good for the experienced reloader, or somebody who really needs to produce a high round count. With enough practice and the right equipment, you can produce upwards of a thousand rounds per hour with a progressive reloading press! In order to achieve this, progressive presses are much more complicated and have much more moving parts. They also require the user to focus on multiple operations happening at the same time. Beginners may be able to have success with a progressive press, but this type is mostly recommended for experienced reloaders.
Included Accessories
The final thing to consider when it comes time to purchase your kit is the included accessories. While every kit will have everything you need, some kits will include a few extra handy tools to make your job easier. The type of powder scale, powder measures, primer feeders, case prep tools, and mounting hardware are all examples of things that can vary widely from kit to kit. You will need to match your needs to a number of accessories included in the kit.
Now that you have a general idea of what you need to look for in quality, speed, and accessories, it's time to take a look at a few of the best reloading press kits out there. While every one of the mentioned kits is a good option, it's up to you to find the one that will best suit your needs.
Best Reloading Press Kits on the Market in 2023
Single Stage Reloading Press Kit:
If you are a beginner looking to start off with high-quality equipment, then this supreme master reloading kit from RCBS may be a good option to consider. RCBS makes excellent quality equipment and comes with a few extra accessories. This kit does include a single stage press, which makes it aimed more at beginners. This press will produce a lower round count but will be much easier to operate than the larger, faster presses.
Where this kit really shines is the accessories. While the included scale is mechanical instead of digital, it allows you to weigh over 500 grains of powder at a time and is magnetically dampened to ensure a fast, accurate reading. The uniflow powder measure included in the kit is one of the best offered in this price range and consistently throws accurate charges. It also includes a hand priming tool that allows you easily prime cases off the press, which is an excellent feature that really makes the priming step go more smoothly.
You will also find that the kit includes many other handy accessories to assist you in lubricating your cases, deburring the necks, charging the cases with powder and holding the completed rounds. This kit even comes with some basic hand tools and a reloading manual to help you set up your press and get started.
Pros:
High-quality components
Lots of accessories
Good starter kit
Cons:
High cost
Slow production
Learn More On Amazon
Beginner Single Stage Kit:
If you are a novice reloader who is looking for a good place to start, then you may want to give this kit from Lee Precision a chance. While this is an excellent starter kit, you will be limited as to what you can do with it. The powder measure can vary the drops rather widely, so using it will produce ammo roughly on par with bulk factory rounds. The powder scale included in weighing your charges is slow and tedious to use. In fact, none of the equipment in this kit could be considered high end or premium. However, this kit was designed as an affordable way to get new shooters started in the reloading process, and it does that very well.
As with all single stage presses, this kit also falls a bit short in the output division. If you are wanting to produce hundreds of rounds per hour, you may want to look elsewhere. This kit does include the quick change bushing system though, so that will save quite a bit of time on your die changes. This kit also includes everything you need to get started reloading (minus the dies and components). You will find that the kit includes the tools you need to weigh your powder charges, charge the cases, prime the cases, seat the bullets and crimp bullets. If you are new to reloading and looking to get your feet wet, then I highly recommend the Lee precision 50th-anniversary reloading kit.
Pros:
Contains everything you need to get started reloading
Affordable
Convenient and easy to learn on
Cons:
Lower quality accessories
Reloading is slow and tedious
Learn More On Amazon
Budget Turret Reloading Press Kit:
If you are new to reloading, but also want a higher round output than the single stage press, then this turret press kit from Lee may be a good option to consider. As will all Lee reloading equipment, there is a noticeable quality difference between this kit and some of the higher-end equipment. While this won't make much difference to your average or beginner reloader, somebody who demands the best may not be totally satisfied with the performance.
The round count that you will be able to produce with this kit is a good middle ground when comparing different presses. This press does have an auto-indexing feature that will further improve your efficiency. With enough practice and the right setup, you should be able to load in excess of 250 rounds per hour with this kit. While much slower than the progressive press, this provides substantially more output than the single stage press.
While the Lee accessories included in this kit may not be top of the line, they will be more than adequate to get you started. The powder measure is far from match grade but will be adequate for producing ammo to SAMMI specifications. This kit does require you to prime on the press, which isn't a problem if you like to do your case prep before resizing. The safety scale can be a burden to use, but it gets the job done and is accurate. This kit also includes a reloading manual and various other case prep tools and mounting hardware to get you started. If you are a beginner looking to start with a turret press, then you may want to look into this kit.
Pros:
Cost-effective
Easy to use
Adequate accessories
Cons:
Learn More On Amazon
Progressive Reloading Press Kit:
If you are really looking to step up your reloading game and crank up your output to near-professional levels, then you may want to consider the XL650 from Dillon. When it comes to quality, it is next to impossible to beat Dillon. Not only do they have some of the best equipment available, but they also have one of the best warranties. If the best quality and customer service are what you're after, then Dillon is a good choice.
This press kit really shines when it comes to round output as well. This particular kit is set up for .223, but they also come in other caliber configurations as well. With this kit, you can expect to load between 500 and 800 rounds per hour, well over double what you can expect with a turret press! This auto indexing 5 station progressive reloading press blows the smaller presses out of the water when it comes to output. The one area where this kit is lacking is the accessories. It does come with what you need to get started, but included very little in the way of mounting tools and hardware, and case prep accessories. With this kit, you can expect to really crank out the rounds, but that is it.
Pros:
High quality
High round output
Good warranty
Cons:
High cost
Minimal accessories
Learn More On Amazon
Best Reloading Press Kit Final Thoughts
Let's face it: if you are new to reloading or simply don't have all the equipment you need, then the best way to get started is with a kit. If you want the best kit for you, then you will have to find one that meets your requirements for quality, round output, and accessories. While all of the kits mentioned above are great options, there is one that stands out above the rest, and that is the Lee precision 50th-anniversary reloading kit. This kit contains everything you need to get started and more, all at a price point that far and away beats the competition. Now you have all the information you need to purchase the best reloading press kit for your needs, so purchase today!
Thank you for visiting Reloadingpresso.com. If you like any of the equipment that you see in this article, please click on one of the Buy Now buttons to make your purchase on Amazon. As an Amazon affiliate, we make a small commission off any purchase made from a click through from our website, which is how we are able to provide you with these informative articles. You will not pay more on Amazon by clicking through our website because the price is the same as if you go to Amazon directly. If you're looking for more than what you see here, please review our overall best reloading press buyers guide.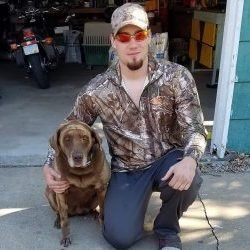 Dan is an avid outdoorsman and shooter who developed a passion for firearms at an early age. When you can't find him in the field chasing birds or big game, you can find him at the range shooting various competitions such as 3-gun, IPSC, and IDPA. He also enjoys manufacturing his own ammunition, as well as both working on, and building his own firearms. Dan has many years of firearms experience, and enjoys helping people find the right gear and sharing his extensive firearms knowledge.