Do you find yourself frustrated with the slow, tedious process of reloading on a single stage press, but not ready to shell out the big bucks for a progressive press? Or do you simply want to increase your reloading output without getting into all of the complicated mechanisms and features of a progressive press? If so, then a turret press may be the solution to your problems! A turret press is a good middle ground between a progressive and single stage press when it comes to output, cost, and complexity. If you would like to learn more about what to look for in a turret press, as well as read a few reviews of the more popular models, then keep reading!
Short On Time? Here Is The Bullet List
**Below are our more detailed reviews. Click the links above to see current prices or read customer reviews on Amazon.
Turret Press Features
Quality Of Materials
As with all reloading presses, different brands and models produce different quality presses. Turret presses have significantly fewer moving parts and features than a progressive press, so quality in a turret press is not nearly as important as it is in a progressive. On the other hand, turret presses are much more complicated than single stage presses, and therefore quality is more important as well.
At the end of the day, the overall quality is something each user will have to decide for themselves. If you are doing a large volume of precision ammunition, you may want to opt for a press constructed of steel. If you are a casual reloader who is only interested in producing bulk ammo to factory specifications, then a cast aluminum press should fit your needs, as well as be much more cost-effective.
Importance Of Additional Features
Additional features and accessories are much more important and handy on a turret press than they are on a single stage press. Any time you increase the complexity of a product, the features and accessories become much more important. For example, having a powder-through expanding die makes almost no difference on a single stage press. The same die will simply make your life easier on a turret press but is almost a requirement for a progressive press to operate efficiently.
Automatic Indexing
One feature that makes a huge difference on a turret press is an auto indexing feature. Eliminating the need to manually index the turret in between steps is a not only a huge time saver, but it makes the process much more exciting and less tedious as well. A small tradeoff is that it does make the press slightly more complicated, and can sometimes decrease the maximum overall length of the cartridges you can load. If you cherish simplicity or want to load large magnum rounds, then auto indexing may not be as important to you. But in most cases, auto indexing is probably one of the most important features to look for on your turret press.
Powder Charging
Another feature that can make a big difference in the reloading process is how the powder charging step is done. While a powder through expanding die will be a component that you need to purchase for each individual caliber, not all presses support them. This would require you to physically remove the primed case from the press, charge the case, and re-insert it into the press. As you can see, these extra steps can add a lot of time and effort to the reloading process. With the use of a powder through expanding die and the appropriate powder measure, you will be able to charge the cases simply by pulling the lever for the next step. This eliminates the need to remove the cases from the press and greatly increases your output.
Brand And Warranty
When looking at turret presses, you will want to consider not only the model of the press but the company you are purchasing from as well. The warranties and customer service vary widely from company to company and can make a big impact on what press you ultimately decide to purchase. Some companies offer little to no support or warranty on their products, while others, such as Dillon, offer excellent service and a great warranty. You will need to keep in mind that great service does come at a price, and companies that offer great service often charge a premium for their products. The best service available may not fit your needs though, so each person will have to balance their wants, needs, and budget in order to find the product that works best for them.
Best Turret Reloading Press on the Market in 2023
Best Budget Turret Press:
If you are looking for an entry-level press that won't break the bank, but still has decent quality, then you may want to look at the classic turret press from Lee. While this press is lacking in some of the nice features you will find on the more expensive presses, it does a good job of covering the basics.
The Lee Turret Press has 4 stations for holding die sets for the caliber that you are reloading; this also makes reloading other calibers easy since you can just change out the turret plate. But what really separates this turret press from its competition is the auto indexing feature where you don't have to manually rotate the turret in order to proceed to the next station. Every time the handle returns to its original position, the turret automatically rotates, saving time for the user. On the other hand, if you wish to do things manually, like when you want to work on a single die for a number of cases, all you have to do is remove the index rod.

Primer arms are also included on this turret press, available in both large and small primers. The primer arm can easily be inserted under the case holder and can be easily removed as well if not needed for the operation or you can opt for a hand priming tool which Lee also makes. Its heavy-duty design makes it durable and able to work under pressure for reloading batches of shell casings. And with its huge clearance space, the Lee Precision Classic Turret Press can even work on the tallest of cases, increasing its versatility.  For its strong built and all of the features that you can utilize, the Lee Precision Classic turret press is actually reasonably priced and a great turret press for the money. Both novice and seasoned reloaders will definitely find it easy to operate and produce the high quality reloads they need.
Pros:
Good quality/price ratio

Auto-indexing

Easy to use
Cons:
Only 4 stations

Lacks some features of the more expensive presses
Best Turret Press for Reloading Pistol Rounds:
The Lyman turret reloading press is a high-speed press that works great on a wide range of calibers. One nice feature of this press is that it has 6 stations, which makes it ideal for the extra steps often involved in loading pistol rounds. The turret head can also be easily changed if you want for resetting your dies when swapping calibers.

The turret head also has a sturdy handle that you can easily move every time you shift from one stage to the next. Although it is not done automatically (like some turret presses do), the handle is still easy to move, remove, and adjust. The Lyman turret press also features a primer catcher that will catch and hold onto the spent primers so you can avoid a messy work area. The turret is designed to reload both handgun and rifle cartridges, which naturally makes it a more versatile turret press. To swap between calibers, all you need to do is detach and replace the turret head.  

Lyman is a quality manufacturer in reloading and we recommend quite a few of their products including their brass tumbler and case trimmers. This turret press may not be the cheapest reloading press available in the market, but it is definitely not the most expensive either. It features a durable technology made of iron that is coated with a silver hammer tone powder, which makes it both durable and classy at the same time and justifies the slightly higher cost.
Pros:
Cons:
No auto indexing feature

Cast iron frame can be heavy
Highest Quality Turret Press:
The RCBS Turret Press is made of a sturdy cast iron material that is built to last while utilizing a simple operation that even beginner reloaders can understand. With just a single pull of the lever, you can work on 3 different stages in the reloading process: sizing, depriming, and priming. As you continue, the powder will be added and then the bullets are seated to complete the reload.

The turret head contains 6 stations for different die combinations. The turret head itself can also be easily removed and replaced with another so you don't have to adjust and place your die sets repeatedly.  Instead, you just have to prepare a turret head for each caliber that you have. The turret ball handle that is used for indexing can also be placed on both the right and left side, making it more comfortable for you regardless of which hand you normally use.

This simple and yet efficient operation is what makes the RCBS one of the best turret reloading presses available in the market, for both new and seasoned reloaders alike.  It's a very sturdy design that can handle volumes of brass reloading. Getting an extra turret head is highly recommended and the cost is small.
Pros:
6 stations

High quality

Quick change tool head
Cons:
Price

No auto indexing feature
Best Lightweight Cheap Turret Press:
If you are looking for the bare bones, cheapest possible way to get yourself a turret press, then you may want to consider this cast aluminum press from Lee. It comes in at a few dollars cheaper than their heavier duty precision model, but still contains many of the same nice features. First of all, this cast aluminum press is much lighter weight than the other presses. If you are wanting a portable setup that is easy to move around, this may be a good option for you. The cast aluminum is a much cheaper and lower quality material though, but for most casual reloaders this will likely never be a problem.
This press still does retain the auto-indexing feature. This is an excellent feature that really speeds up the reloading process. It does only have 4 stations though, so if you are wanting to do more complex reloads with extra steps it may not work very well for you. All things considered, this is far from the best turret press on the market, but it is the most affordable. If you are wanting to get started with a turret press for as cheap as possible, this may be a good option to consider.
Pros:
Cheap price

Auto-indexing

Lightweight
Cons:
Lower quality

Only has a 4 hole tool head
Best Turret Reloading Press Final Thoughts
Let's face it: if your plain old single stage reloading press just isn't cutting the mustard anymore, it's time to upgrade to a turret press. If you want the best return on your investment, you are going to need a turret press that fits your quality standards and price range, all while still providing the features and accessories that you need. While all of the presses listed above are good options and have their place, there is one that provides good quality, along with ample accessories and features, all at a good price point. The precision classic turret press from Lee is a great choice for most people looking to purchase a turret press, and, with the proper care and use, will produce high-quality reloaded ammunition for years to come! Now you have all the information you need to buy the best turret press for you, so go out and buy today!In addition to the press that you buy since this could be a dangerous hobby you should also pick up one or a few of the recommended manuals on reloading.
Thank you for visiting Reloadingpresso.com. If you like any of the equipment that you see in this article, please click on one of the Buy Now buttons to make your purchase on Amazon. As an Amazon affiliate, we make a small commission off any purchase made from a click through from our website, which is how we are able to provide you with these informative articles. You will not pay more on Amazon by clicking through our website because the price is the same as if you go to Amazon directly. If you're looking for more than what you see here, please review our Best Reloading Kit Buyers Guide and our Best Gun Safe Buyers Guide.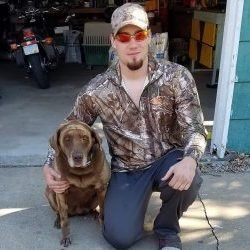 Dan is an avid outdoorsman and shooter who developed a passion for firearms at an early age. When you can't find him in the field chasing birds or big game, you can find him at the range shooting various competitions such as 3-gun, IPSC, and IDPA. He also enjoys manufacturing his own ammunition, as well as both working on, and building his own firearms. Dan has many years of firearms experience, and enjoys helping people find the right gear and sharing his extensive firearms knowledge.