If you've spent any amount of time at the gun range with a rifle, you know that it can get dirty very quickly. A simple bolt action is easy to clean and does not take very much time or equipment, but many modern semi-automatic rifles are nowhere near as easy. These precision machines have dozens of tiny parts, springs, and crevices, all of which can get coated in fouling. Thankfully, with the right cleaning kit, keeping your rifle clean and running in tip-top shape isn't a chore at all! If you'd like to find out more about the best rifle cleaning kit in 2023 for you, then keep reading!
Short On Time? Here Is The Bullet List
**Below are our more detailed reviews. Click the links above to see current prices or read customer reviews on Amazon.
What to Look For in a Rifle Cleaning Kit
Bore Brushes
One of the first things to look for in a rifle cleaning kit is going to be a good assortment of bronze brushes. Since you are looking for a kit specifically for rifles, your brushes are going to be sized very differently from handgun or shotgun cleaning kits. Handguns typically have larger bore diameters than most of your common rifles, so you will want to make sure that the brushes will go small enough to fit your needs. If you purchase a shotgun cleaning kit, none of the included brushes will fit! You will need to pay particularly close attention to this if you have smaller caliber rifles, such as an AR-15 in .223, or a varmint rifle in .17HMR. Most cleaning kits will list the sizes of brushes that they include, so it is very important to find a kit that includes brushes for all of your calibers.
Bore Mops
While bore mops are much more common for pistols and shotguns, many cleaning kits will include them for rifles as well. Personally, I am not a fan of bore mops at all. While they do have their place, I use them only on incredibly rare occasions. One exception to this is a product commonly referred to as a bore snake. This consists of several gun cleaning components all tied together, with the mop being a thick woven cord instead of a cotton head that screws onto a cleaning rod. Mops such as these last much longer and are much easier and more convenient to use.
Cleaning Jags and Tips
After you've used your bronze brush and solvent to loosen and dissolve all of the fouling in your barrel, you need a good way to get everything out! A popular method of doing this uses a brass or plastic jag, or plug, that is sized slightly less than your bore. You can then cover this with a cotton patch, and use that to soak up all of the dissolved fouling. Many kits will also include a slotted tip which can hold the patch, but these are more difficult to use and I tend to avoid them whenever possible.
By far my favorite method of cleaning the bore is using a bore squeegee. This is a relatively new product made of flexible silicone that screws onto the end of your cleaning rod or cable. It is sized slightly larger than your bore, and one pass through is all you need to get your barrel squeaky clean! A bore squeegee has saved me hours of cleaning time and countless piles of dirty rags. Any cleaning kit with an assortment of bore squeegees would instantly shoot to the top of my list.
Cleaning Rods
One particularly tricky area of rifle cleaning kits is going to be the cleaning rods. You really have to watch the thickness of your cleaning rods when it comes to rifle kits. Too small, and it will bend and break when you clean your larger caliber rifles. Too large, and it won't fit down the barrel of your smaller rifles. Many rifle cleaning kits include 2 separate cleaning rods in order to combat this problem. One thin cleaning rod that is small enough to fit down the barrel of a .17HMR, and another larger cleaning rod that can handle pushing larger brushes without breaking.
Another thing to consider is if you want hard or flexible cleaning rods. Some cleaning kits will come with a flexible coated steel cable instead of a cleaning rod. These are used to pull the brushes and cleaning tools through the barrel instead of pushing them through. I prefer to have both options in my cleaning kits. There are many times where a flexible rod is handy, but I also like the versatility of a hard cleaning rod. In any case, I would be cautious about any rifle cleaning kit that doesn't include a hard cleaning rod (with the exception of boresnakes, of course).
Other Brushes and Miscellaneous Features
Another very important feature of rifle cleaning kits is going to be the extra tools included. If you are only worried about the occasional cleaning of your bolt action rifle, these may not be very important to you. But if you detail clean your AR-15 after every trip to the range, you are going to need some special tools. Bronze, steel, or nylon brushes are going to be very important. These tools resemble ordinary toothbrushes, but with an assortment of head shapes and types. Each and every one of these comes in incredibly handy, and you will want to make sure that you have a wide variety of them on hand.
Picks and punches are other handy tools to have. Often, more complicated semi-automatic rifles will require a tool or two in order to properly disassemble it. In most cases, a simple punch will be adequate to drive out a pin or assist you in pushing a lever. A good kit doesn't have to have a full punch set, but just a small simple roll pin punch can make a huge difference in your cleaning experience. Picks are another tool that is a must-have for my cleaning kit. A good pick will allow you to reach down into tiny crevices to scrape away fouling that can collect in hard to reach places. While I usually get a new pick every time I go to the dentist office, a good selection of different picks is definitely a huge bonus in a kit.
Best Rifle Cleaning Kits on the Market in 2023
Best On-the-go Cleaning Kit:
The quickest and easiest way to get the bore clean on your rifle is a BoreSnake from Hoppes. While this may not look like much of a cleaning kit at first glance, closer inspection will reveal that it does, in fact, have everything you need to clean the barrel of your rifle. For starters, you have your "cleaning rod," which is simply a length of cord with a brass weight on the end of it. This is run through the barrel first to give you a handhold to pull the rest of the cleaning system through. Next up, there is a short length of cotton "patch" that wipes away any easy to get fouling. In the middle, you will find a stiff bronze brush that scrubs and breaks free any stubborn residue. Finally, it finishes up the job by pulling through a large cotton cord that is 160 times larger than a standard patch! Since all of these are connected together, it gets your bore clean in just one pass!
Obviously, the biggest downfall to this kit is that it only cleans the barrel of your rifle. There are no brushes or picks to get into the nooks and crannies. It also is not very good at cleaning the chamber of your rifle. If you are wanting to do a very detail clean, a simple BoreSnake just doesn't cut it. However, for a simple scrub down between matches, or a quick clean of your bolt action rifle, the BoreSnake is a great tool. While this probably won't replace your whole toolkit, it makes for a handy addition to any range bag or cleaning kit.
Pros:
Quick
Easy to use
Affordable
Cons:
Only cleans the bore
Can be tough to pull through
Learn More On Amazon
Best Cleaning Kit for an AR-15:
No products found.
No products found.
If you are a competition shooter looking for an emergency maintenance kit for your range bag, or you simply want a dedicated cleaning kit for your AR-15, then this Real Avid great kit to consider. Every piece of this kit is tailor-made for the AR-15, and it includes many pieces and tools that simply don't exist in other kits. Two of the greatest features of this kit include the bronze chamber brush and star chamber cleaning pads. This allows you to easily clean the chamber and locking lugs of your rifle, which is a problem area that causes a lot of jams.
It also includes a brush, pick, and slotted tip for deep cleaning your rifle and bore, plus a quick reference field guide that will assist you in cleaning all the various components of your rifle. Another great feature is the specialized scraper, which is designed to aid you in cleaning 12 major parts of your bolt carrier group. While the 7 piece cleaning rod can be a pain to assemble, it really is the only major downfall of this kit. If you have an AR-15 and are looking for the best cleaning kit you can get, then it would be hard to go wrong with this kit from Real Avid.
Pros:
Chamber and locking lug cleaning tools
BCG scraping tool
Includes a pick and brush
Cons:
7 piece cleaning rod
No cleaning jag, only a slotted tip
Specific to the AR-15 platform
No products found.
Best Gun Cleaning Kit for All Calibers:
If you are looking for a "one size fits all" gun cleaning kit that will clean all of your rifles, then this 68 piece cleaning kit from Winchester may be a good option. This kit doesn't have any flashy new products or gimmicky features. What it does have is a large assortment of quality, proven components in a neat, organized package. This kit features a wide assortment of slotted tips and cleaning jags, as well as bronze brushes and mops beginning at .17 caliber. It also includes two different sized cleaning rods, a few patches, and a very impressive assortment of brushes and picks.
One problem you might run into with this kit is that it almost has too many pieces! The brushes and mops go clear up to 10 gauge, which means that if all you have are rifles, you will be paying for a lot more than you need with this kit. The soft side carrying case also does tend to cause a few problems, and it is nowhere near as nice as the hard-cased kits. Those are pretty minor complaints about a kit at this price point and with these features, however. If you are looking for one cleaning kit that has all the tools you need to clean every gun that you have, then this is a great place to start.
Pros:
Lots of pieces
Good assortment of brushes
Separate tubes to keep mops and bore brushes organized
Cons:
Soft side carrying case
Includes more than you need to just clean rifles
Learn More On Amazon
Best All-in-one Cleaning Kit:
If you are looking for one-stop shopping, and don't want to waste time finding the solvents and lubricants needed to complete your gun cleaning kit, then you will want to check out this total elite gun care kit from Hoppe's. What sets this kit apart from the competition is that it includes a 4-ounce bottle of Hoppe's Elite gun cleaner and a 2-ounce bottle of Hoppe's Elite tun oil.
Apart from that, this kit includes almost everything else found in any standard cleaning kit: cleaning rod, bore brushes, utility brush, and cleaning patches. One thing this kit does not include is any .17 caliber brushes. The smallest size included is .22 caliber, but for most people, this won't be a problem. Add to that the soft cleaning mat and hard-sided case, and you have a well-rounded cleaning kit that would suit any rifle owner well.
Pros:
Includes gun oil and cleaner
Hard-sided case
Affordable
Cons:
Small assortment of bore brushes and tools
No cleaning jags
Learn More On Amazon
Best Rifle Cleaning Kit for the Money:
If you want the easiest to use, most thorough, and all around best cleaning kit that you can get, you should check out the hunting cleaning and maintenance kit from Remington. Since the Freedom Group buyout in 2007, many of Remington's products have been low-quality, and lacking innovation. This cleaning kit is exactly the opposite. Remington's revolutionary Squeeg-E system has forever changed the way I clean my guns. The soft silicone squeegees are easy to pull through the barrel, easy to clean up afterward, and get your bore mirror-clean in just one pass!
While the Squeeg-E system is what really sells this kit, it also contains a plethora of other handy tools. The flexible coated cleaning rod is handy to use with the Squeeg-E system and will protect your bore from scratches. It also includes several large cleaning brushes, a soft cloth, and a nice cleaning mat, all stored in a handy bag that doubles as a range bag with plenty of extra storage! If you are looking for a great kit that fits all of your needs, then this is a good one to check out.
Pros:
Squeeg-E system
Bag has plenty of extra storage
Includes utility brushes
Cons:
Included oil is low quality
Bag is bulky if all you want is a cleaning kit
Most expensive option in this list
Learn More On Amazon
Best Rifle Cleaning Kit Final Thoughts
If you want the best rifle cleaning kit to fit your needs, you are going to need one that is easy to use, easy to store and transport, and has all of the tools you need to clean all of your rifles. While all of the kits in this list will fit these purposes, there is one kit that stands out above the rest. The hunting cleaning and maintenance kit from Remington meets all the qualifications for a great reloading kit but goes above and beyond with the addition of their Squeeg-E system. The system is so effective and easy to use, once you try it you will wonder why you ever used anything else! One thing is for sure, you will not be disappointed with this cleaning kit. So now that you have all the information that you need, you can go out and purchase the perfect reloading kit for you today!
Thank you for visiting Reloadingpresso.com. If you like any of the equipment that you see in this article, please click on one of the Buy Now buttons to make your purchase on Amazon. As an Amazon affiliate, we make a small commission off any purchase made from a click through from our website, which is how we are able to provide you with these informative articles. You will not pay more on Amazon by clicking through our website because the price is the same as if you go to Amazon directly. If you're looking for more than what you see here, please review our Best Reloading Kit Buyers Guide and our Best Gun Safe Buyers Guide.
Even More Related Buyers Guides: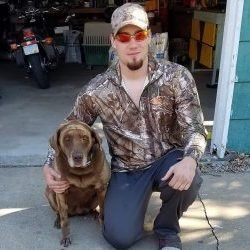 Dan is an avid outdoorsman and shooter who developed a passion for firearms at an early age. When you can't find him in the field chasing birds or big game, you can find him at the range shooting various competitions such as 3-gun, IPSC, and IDPA. He also enjoys manufacturing his own ammunition, as well as both working on, and building his own firearms. Dan has many years of firearms experience, and enjoys helping people find the right gear and sharing his extensive firearms knowledge.