One of the most frustrating things you can encounter when you are cleaning your firearms is a gun that simply will not stay put. I have spent way to much time trying to brace parts against tailgates and benches and struggling to hold onto firearms covered in oil or solvent. All of that changed, however, when I got my first gun cleaning vise. A good gun cleaning vise will hold your firearm securely while you perform all the needed maintenance, and many of them have handy compartments or other features to store your supplies and small parts. There's no doubt about it if you want to make cleaning your guns much easier, you absolutely need a vise. If you want to learn more about what to look for in the best gun cleaning vise in 2023 for you, then keep reading!
Short On Time? Here Is The Bullet List
**Below are our more detailed reviews. Click the links above to see current prices or read customer reviews on Amazon.
Get The Right Tool For The Right Job
When you see some of the price tags associated with a good, high-quality gun cleaning vise, you may start to wonder why the cheap bench vise you already have won't do the trick just as well. To put it simply, it won't. Solid iron bench vises are not known for their finesse, and their rough jaws will mar finishes and make deep gouges in your metal with ease. I speak from experience when I say that even if you try to be careful when using your bench vise, you will inevitably end up with a ruined finish. If you want to get serious about protecting your firearms and keeping them clean, you need the right tool for the job.
Some Things To Consider
Soft Jaws
One of the most important things to consider when you are looking for a good gun cleaning vise is a non-marring surface on the jaws. I usually prefer to have hard plastic jaws, as they are the best for giving a good hard clamp while still not hurting the finish on your firearm. I would stay far away from any vise with hard metal jaws, as they will ruin your finish. I would also stay away from vises with no clamps at all! While most gun cleaning vises will have some sort of clamping mechanism, there are a few that do not. This will allow your firearm to slip and slide all over the place during cleaning, which totally defeats the purpose of a vise in the first place!
Gun Cleaning Vise vs Gun Rest
Another thing to consider is the advantages and disadvantages of a gun cleaning vise and a gun rest. Generally speaking, a gun cleaning vise should absolutely not be used as a shooting rest. They are often made of plastic and not designed to take the punishing recoil of a high powered rifle or shotgun. This type of vise excels at clamping and securely holding your firearm for cleaning and other maintenance, but typically has no place at the range.
Gun rests, on the other hand, are fantastic for shooting from. Many options, like the lead sled, have places to add weight in order to provide an even steadier rest and absorb some of the recoil. While these may often look very similar to a gun cleaning vise, they perform very poorly in that department. Their clamping methods, if any, do very little to secure the firearm during routine cleaning. They are well built and sturdy, but not usually designed to hold a gun during cleaning.
Construction Materials
The main construction material is going to go a long way to determine the quality of your gun cleaning vise. Usually, lots of metal means higher quality, but this is not always the case with a gun cleaning vise. You will most certainly want a certain degree of metal framing in order to provide rigidity to your vise, lots of metal may actually be a downfall, as it will be easier to scratch your firearms or components. In this case, seeing a lot of plastic is not always a bad thing. It can make your vise a bit more flimsy at times, but that is usually worth it for the extra protection.
Adjustability
If you have a wide range of firearms in your collection, you will most certainly want a vise that is adjustable over a wide range of lengths. There are few things more frustrating than having a rifle that is too short to fit in between supports, or having a rifle so long that it causes the vise to tip over. Adjustability can also go quite a bit further than just moving the supports back and forth.
Many vises will also come with additional supports that can be added or taken away from the vise as needed. Most common are the magwell supports for 1911 handguns and AR-15 rifles. If you have one of these types of firearms, the option to add those supports can make your life significantly easier.
Extras and Accessories
The final thing to consider is going to be the extras and accessories included with your gun cleaning vise. For example, having a nice tray full of compartments underneath is incredibly handy, as it gives you a place to store the numerous small parts and pins that you have to remove during a thorough gun cleaning session. Other vises also try to double as a shooting rest, while some try to be more collapsible and portable. These are all things that are a purely personal preference, and as long as you get a well-built rest with good jaws and adjustability, the rest is just a bonus.
Best Gun Cleaning Vices on the Market in 2023
Best Affordable And Portable Gun Vise:
If portability and affordability is the name of your game, then you may want to look into the gun butler from Tipton. Tipton is a company that makes quality and affordable gun cleaning equipment that I have had great personal success with. This is one of the most affordable gun cleaning vises out there, and it accomplishes that by eliminating all of the bells and whistles that many people like in a gun cleaning vise. It does have a handle and collapses for easy transportation and storage. That is just about where it ends though.
The downsides to this vise, while numerous, aren't the end of the world. For starters, this vise has no clamping mechanism. However, it can still hold your firearm securely due to the deep forks that are coated with rubber. While not as good as a clamp, this still provides a fairly good grip on your firearm. It is also non-adjustable. The forks have a specific slot that they each fit into, and that is it. If it doesn't work for your rifle, then it's tough luck. It is also very cheaply made, with little to no metal in its construction. That being said, this vise is a fraction of the price of any other gun cleaning vise on that market. That, coupled with its ability to get the job done, earns it a place on the list as the best affordable gun vise.
Pros:
Cons:
No clamping mechanism

Little to no metal in the construction

Not adjustable
Best Combination Shooting And Cleaning vise:
If you are looking for a good vise that will work for both cleaning and shooting, then you may want to consider this vise from Hyskore. This vise features a hard metal frame and plastic construction, which offers the best in terms of support and protection. The rear clamp also features hard plastic jaws to securely hold your firearm without marring the finish. It also has a padded front rest, along with a soft velcro strap to prevent the rifle from jumping out of the rest due to recoil. This rest is also loaded with extra features, and boasts 4 adjustable feet, ample storage compartments, and even a level!
While this is a great gun cleaning vise, it is not without its downfalls. Jack of all trades, master of none certainly comes to mind when looking at this vise. This is a vise that will certainly work great for gun cleaning, but when it comes to acting as a shooting rest, it is lacking. The construction, while beefy enough for cleaning, raises some concerns as to how well it would stand up to the punishing recoil of a high powered rifle. Additionally, it comes with quite a few extra features that are really only good when using it as a shooting rest. If you have low powered centerfire or rimfire rifles you plan to shoot with it, then this is a fantastic choice. Otherwise, you will probably be better off going with a more specialized option.
Pros:
Metal frame

Can use as a shooting rest

Multiple secure clamps
Cons:
Not good for high power rifles

Has features that are not needed in a cleaning vise
Best Gun Cleaning vise With Storage:
If you are looking for a gun cleaning vise that is portable, contains ample storage, and has a great price to boot, then this shooting case from Plano is a great place to start. This gun cleaning vise has by far the most storage of any of the models listed here, as it has a whole entire box devoted to storage of your gun cleaning supplies and chemicals. Even the jaws detach and stow away securely inside the box for ease of storage and transportation!
While this gun cleaning vise does have a lot of storage, it is lacking in almost every other department. It's all plastic construction is a bit flimsy, and the plastic jaws have no grip or clamping mechanism to hold your firearm securely. There is also no way to adjust the jaws, so if it doesn't fit your firearms then you are just out of luck. That being said, this is still an adequate gun cleaning vise for the size. If you are looking for an affordable, portable gun cleaning vise that has an incredible amount of storage, then this may be just the ticket.
Pros:
Portable

Affordable

Lots of storage
Cons:
Flimsy

Non-adjustable

No clamping mechanism
Best All-Around Gun Cleaning Vise:
When Tipton decided to name this product the "best gun vise," they weren't joking around. This is a perfect gun cleaning box that checks almost every box on the list. The luxuriously padded jaws and solid clamping mechanism will have your firearm feeling like it's at the spa, while it's still being held firmly and securely. And speaking of jaws and rests, they are all fully adjustable, thanks to the solid aluminum channel that they can slide down and clamp too. There are also loads of handy compartments in the tray underneath that will conveniently hold all sorts of cleaning supplies. Finally, this vise is loaded with accessories and extra features and offers the ability to easily add magwell supports for any number of firearms such as the AR-15.
While the downsides to this vise are few and far between, one of them is the price. While not the most expensive on the list, you can expect to pay a fair bit more than many other options. But I can assure you that the price will certainly bring you more quality than what you expect. Even though the vise is mostly plastic, the aluminum channel offers ample support, and the vise most certainly feels very sturdy and will hold your firearms securely. If you are fine with spending a little bit of money to get a good, high-quality gun cleaning vise, then this may be the best option for you.
Pros:
Sturdy

Secure clamping mechanism

Fully adjustable
Cons:
More expensive option

Not as much metal as other vises
Best High-End Gun Vise:
If "buy once, cry once" is your mantra, then this ultra gun cleaning vise from Tipton may just be for you. By far the most expensive option on the list, I can assure that you are paying for quality that will last a lifetime. This vise has an incredibly solid steel frame that supports the strong, non-marring plastic cradles. The cradles will securely hold your firearm with both front and back clamping mechanisms, as well as a strong center support for break-open firearms. This model also includes 2 handy trays with several compartments to hold your cleaning supplies and solvents. To top it all off, it also has 4 adjustable feet to make sure that your vise stays sturdy and level.
In fact, the only real downside to this vise is the price. By far the most expensive option on the list, this vise delves into a region that many may not be able to afford. To go even further, one could really argue that the extra durability and features are not really even necessary and that your money would be much better spent on a more affordable vise. While this may be true, there is something to be said about the incredibly high-quality and features of this vise. If you are willing to spend the money on something that you will love to use for the rest of your life, then the Tipton Ultra Vise may just be the way to go.
Pros:
Sturdy

Solid clamping mechanism

Fully adjustable
Cons:
Best Gun Cleaning Vices Final Thoughts
Let's face it: if you're tired of scratching up your firearms and chasing your components all over the bench, then you really need to get a gun cleaning vise. If you want to get the best vise for you, then you are going to need one that fits your budget and portability requirements, as well as being sturdy and the right size for what you need, as well as securely holding your firearm while you work on it. While all of the vises listed above will meet all of the basic requirements, there is one that stands out above the rest. Like the name says, the Tipton Best Gun vise is, to me, the best gun vise there is. An absolute perfect blend of quality and affordability, the Tipton Best vise is the one I trust to hold my firearms safe and secure anytime I need to work on them. Now that you have all the information that you need, it's time to go out and buy the perfect gun cleaning vise for you today!
Thank you for visiting Reloadingpresso.com. If you like any of the items that you see in this article, please click on one of the Buy Now buttons to make your purchase on Amazon. As an Amazon affiliate, we make a small commission off any purchase made from a click through from our website, which is how we are able to provide you with these informative articles. You will not pay more on Amazon by clicking through our website because the price is the same as if you go to Amazon directly. If you're looking for more than what you see here, please review our Best Reloading Kit Buyers Guide and our Best Gun Safe Buyers Guide.
Even More Related Buyers Guides: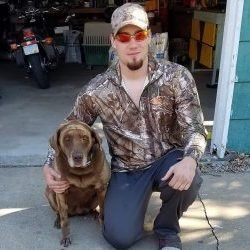 Dan is an avid outdoorsman and shooter who developed a passion for firearms at an early age. When you can't find him in the field chasing birds or big game, you can find him at the range shooting various competitions such as 3-gun, IPSC, and IDPA. He also enjoys manufacturing his own ammunition, as well as both working on, and building his own firearms. Dan has many years of firearms experience, and enjoys helping people find the right gear and sharing his extensive firearms knowledge.