When it comes to gun cleaning kits, you have probably noticed that the case used to contain all of your parts and keep them organized often seems like it was added as an afterthought. In fact, I have purchased several kits over the years that came in nothing more than the cheap clamshell packaging! If you don't have a good box to keep all of your cleaning supplies organized, not only are you less likely to transport your supplies to the range or elsewhere, but you are also more likely to lose or misplace your supplies (and some of those things aren't cheap). A good box will contain all of your gun cleaning supplies, keep them organized, and make them easily transportable. If you want to learn more about what makes the best gun cleaning box in 2023, then keep reading!
Short On Time? Here Is The Bullet List
**Below are our more detailed reviews. Click the links above to see current prices or read customer reviews on Amazon.
Cover The Basics
At the very minimum, you are going to want a case that keeps all of your components separate and secure. Ideally, you will have small individual compartments to help keep all of your brushes organized, as well as a larger "catch-all" area to put rags, oils, solvent, or other bottles of chemical. Personally, I prefer a nice hard plastic case. This will prevent any spilled solvent or oil from soaking into the case itself and will allow for nice easy cleanup. It also prevents rods and other components from getting bent, broken, or damaged.
Depending on your requirements, portability may be a big factor for you. Since I like to keep a separate "on the road" gun cleaning kit, I like to have several different styles of cases. When I shoot 3 gun matches or pistol competitions, storage space in my gun cart or dry box is usually at a premium. In this scenario, compactness and portability are what I prize most in a case. But when all it does is sit at home on the gun table, I prefer something a little bit more roomy and less crowded.
Interestingly enough, a plain old tackle box will work almost perfectly to cover your basics. I like to get a larger one with a few of the fold out trays. The individual lure compartments are perfect for holding brushes and mops, and mine has several long compartments that are just the right size to hold a broken down 3 piece cleaning rod. Finally, the large catch-all area underneath the trays is perfect for holding solvents and oils, as well as a rag or two and any other miscellaneous gun cleaning supplies I need. Tackle boxes are also very easily scalable. The very small, almost pocket-sized tackle boxes work great for carrying a few brushes, a cleaning cable, and a small bottle of solvent or oil. These can slip easily in your gun cart or in the bottom of your dry box without taking up too much room.
Extra Features
Once you've found a selection of boxes that are meet your storage and portability requirements, it's time to look into the extra features provided by some of the more specialized products. Many gun cleaning boxes will also include a roll out mat to lay your firearms on. In this case, they are usually soft, flexible cleaning kits that are decent for storage, but won't do much to protect your tools from damage. These will also be much more prone to absorbing any spilled oil or solvent, which is also going to be more likely to happen in a soft case.
However, these do offer the great advantage of a gun cleaning mat. This can be incredibly useful for those of us who have expensive and nice looking competition firearms, such as the double barrels used to shoot sporting clays. If you ever are required to clean or perform any sort of maintenance at the range, having a nice, clean, soft surface to lay your firearm will prevent it from sustaining any damage or scratches.
A slightly more expensive alternative to this would be a gun cleaning box that includes some sort of padded vice or rest. Usually, these feature hard cases that will do a much better job of organizing and protecting your gun cleaning components. Having access to a padded rest also allows you to bring the gun up off of your working surface and give you 360-degree access to all of its surfaces.
While a gun cleaning vice or rest is a good thing to have, it is certainly not without its disadvantages. Most gun cleaning boxes that include a rest are going to also need to have a separate tray that goes underneath to hold any disassembled parts or small tools. Since the firearm is held up in the air and not placed on a solid surface, you are unable to simply lay out any pins or parts next to the firearm itself. These types of rests also make it next to impossible to drive out any pins. If your cleaning routine requires you to drive out pins to fully disassemble your firearm, then you will be much better off going with a box that includes a cleaning mat.
Best Gun Cleaning Boxes on the Market in 2023
Best Affordable Gun Cleaning Box With Rest:
If you are looking for a large case that will do so much more than just hold all of your cleaning supplies, then this shooters case from Plano is a good place to start. Plano is known for producing middle of the road products at a decent price. The design and materials used are admittedly not as nice as the more expensive products, but they do work well for their intended purposes. This extra large shooters case is no exception. You will find ample room in this box to store not only all the cleaning supplies you need, but also a few boxes of ammo, along with hearing protection, safety glasses, and a few magazines. If you are smart with your packing, this box will hold everything you need for a trip to the range!
This case looks like a fantastic deal on paper, but when it comes to actual functionality it can be a bit lacking. The hard plastic construction could be a bit beefier, and the cradle system used for holding your firearm is not as sturdy as I would like. While it will certainly work great for holding your firearm safely, you are certainly not going to be driving out any pins or putting any amount of force on it. It can also be difficult to store the cradle arms while transporting the box. That being said, this is a great budget option for a gun cleaning box. It is large enough to hold everything you need for a trip to the range, offers a handy place to rest your firearm, and is sturdy enough considering the price. If you are looking for an affordable box that offers more than just storage, then it would be a good idea to check out this extra large shooters case from Plano.
Pros:
Affordable

Gun rack

Lots of storage space
Cons:
Flimsier than other cases

Gun rack doesn't fit in the case very easily
Best Gun Cleaning Box With Rest:
If you're willing to spend a few more dollars, you can get a pretty major upgrade from the Plano with this shooting box from MTM. The rubber over-molded rest latches in very securely and is also much easier to store in the base of the box. Its upper removable tray contains 18 (yes, eighteen!) separate compartments designed to perfectly store brushes, mops, patches, and other miscellaneous cleaning tools. The orientation and layout of these spaces are also much more customizable, meaning you can tailor this box to your specific needs.
However, like the Plano box, this shooting box could use a little beefing up. While it is large enough to easily fit 100 rounds of 12 gauge ammo, carrying that much weight will cause it to flex and put a lot of strain on the plastic latches, which appear to be a weak point. You are also not able to leave the lift-out tray in place while the gun rests are in position. This is a minor inconvenience, but it does slightly bother me nonetheless. However, what this box does do is offer a pretty major upgrade over the Plano for a pretty minor price increase, which is why this box earns the title of best gun cleaning box with rest. If you are wanting a quality case with plenty of storage and a good rest, then this may just be the one for you.
Pros:
Customizable storage compartments

Plenty of space

Sturdy rest
Cons:
Can't leave top tray in place while gun rack is mounted

Latches are a weak point
Best Gun Cleaning Case With Mat:
If you are looking for a soft, flexible case for all your cleaning supplies that also includes a cleaning mat, then this canvas mat from Sage & Braker is a great option. This product is very high-quality and designed to last for many years with its solid waxed canvas, wool, and leather construction. The mat has a total length of 69 inches, which is plenty of room for working on even the longest of rifles. While it does leave a bit to be desired when it comes to storage, it does include 4 various sized pouches which will have no problem holding the necessities you have to have to get your guns clean.
If this sounds like the perfect gun cleaning companion for you, then you are probably right. In fact, my only complaint about this product is the price: and it's a big one. This mat costs several times what it's nearest competitor costs, and that initial sticker shock can be a tough pill to swallow. But if you can get over that, you will end up with one of the nicest products that money can be. Not only is this an incredible mat and case when it comes to function, but it looks great doing it. The color and stitching our fantastic, and will certainly set you apart from those who use the cheap plastic boxes. If you aren't afraid to drop a major chunk of cash and want one of the best products available, then this canvas mat and case from Sage & Braker might just be for you.
Pros:
Looks great

Soft cleaning mat protects your firearms from scratches

Plenty of storage for essential cleaning products
Cons:
By far the most expensive option
Best Value Gun Cleaning Box:
If you've spent any amount of time perusing firearms-related gear and equipment, you are no stranger to the fact that it can get expensive for no other reason then the fact that it is gun-related. At some point, most of us become masters of innovation and are able to easily repurpose other, cheaper equipment. Enter the Plano 3-tray tackle box. Really, it's almost like this thing was tailor-made for gun cleaning supplies. The top 3 trays offer an incredible amount of storage space for jags, brushes, mops, and any other tools you may need. The bottom compartment underneath the trays is solid and perfect for holding small bottles of solvent and oil, and will also fit a 3 piece cleaning rod.
In fact, the only downside to this product is that it can only hold your gun cleaning supplies. Tackle boxes (especially in this price range) are not built very sturdy. On top of that, there is probably not enough room to fit 100 rounds of 12 gauge ammo in this box. Since it is not a firearms-specific gun cleaning box, it also doesn't include any sort of rack or mounts to keep your firearm off the ground. But when tackle box comes in at less than half the price of even the cheapest gun cleaning box, those are all things that are very easily overlooked. If you are looking for an affordable, no-frills box that will do a great job of keeping your cleaning supplies organized, then this is a great option for you.
Pros:
Affordable

Many compartments

Will fit all your cleaning supplies
Cons:
No mat or gun rest

Not very sturdy
Best Ultra-Compact Gun Cleaning Box:
If small size and ultra-portability is the name of your game, then you may want to check out this small Plano tackle box. I have one that works great for my fishing lures, but it is also the perfect size to store your brushes, mops, and jags. If you have a 7 or 8 piece cleaning rod, you may even be able to fit a couple of segments in one of the compartments! Otherwise, I would recommend a small flexible cleaning rod, or just keep your rod separate from the box.
Obviously, this is going to be an "essentials only" cleaning kit. Due to the small size of the box, there is no way you're going to be able to fit an entire cleaning kit in there. But the box is small enough that it can easily fit in a side pocket, or maybe even a back pocket. This will allow you to take your cleaning kit anywhere, and you will always have access to your supplies. If you want to get really creative, you can even purchase small drip bottles that will fit in this tackle box, and fill them up with solvent and oil. If you do it right, you will be able to fit all the basic cleaning supplies you need inside this box! If you are looking for something cheap, compact, and portable, then this pocket tackle box from Plano is a good place to start.
Pros:
Compact

Can store all your basic supplies

Affordable
Cons:
Can't store large rods

Will require moving solvent and oil to smaller bottles
Best Gun Cleaning Boxes Final Thoughts
Let's face it: if you want to get the most use out of your cleaning kit, your best bet is going to be to pack it all in a kit that is easily transportable, protective, versatile, and within your budget. Having a safe place to rest your firearm is a nice bonus, as well as having extra storage for other range supplies. While all of the products above will make fantastic gun cleaning boxes, there is one that really stands out above the rest. The MTM shooting range box has plenty of storage space for all of your components as well a place to put your full solvent and oil bottles. The gun rest is sturdy and should serve you well for years to come, and the large box is more than enough to accommodate a few boxes of ammo and your basic range gear. One thing's for certain: you will not be disappointed in the MTM shooting range box. So now that you have all the information that you need, it's time to go out and buy the perfect gun cleaning box for you today!
Thank you for visiting Reloadingpresso.com. If you like any of the equipment that you see in this article, please click on one of the Buy Now buttons to make your purchase on Amazon. As an Amazon affiliate, we make a small commission off any purchase made from a click through from our website, which is how we are able to provide you with these informative articles. You will not pay more on Amazon by clicking on our website because the price is the same as if you go to Amazon directly. If you're looking for more than what you see here, please review our Best Reloading Kit Buyers Guide and our Best Gun Safe Buyers Guide.
Even More Related Buyers Guides: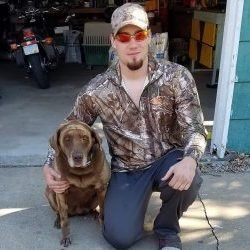 Dan is an avid outdoorsman and shooter who developed a passion for firearms at an early age. When you can't find him in the field chasing birds or big game, you can find him at the range shooting various competitions such as 3-gun, IPSC, and IDPA. He also enjoys manufacturing his own ammunition, as well as both working on, and building his own firearms. Dan has many years of firearms experience, and enjoys helping people find the right gear and sharing his extensive firearms knowledge.