So you just dropped a load of cash on your very first AR-15, now what? Obviously, you're going to want to take it out and shoot it! However, transporting your rifle can be a bit of a tricky subject. If you don't care too much about your rifle, or you're just taking out a "beater build," I oftentimes don't even take a case. But if this is a special or high-end firearm, you're going to want to keep it protected for a multitude of reasons. There are lots of things to consider when looking to purchase a quality case for your rifle, but thankfully it's not too hard to navigate the plethora of options on the market today. If you want to learn more about how to pick the best AR-15 case in 2023 for you, then keep reading!
Short On Time? Here Is The Bullet List:
**Below are our more detailed reviews. Click the links above to see current prices or read customer reviews on Amazon.
Size
The first thing you're going to want to consider is what size of case you will need. Out of all the firearms out there, the AR-15 is one that can vary in size more than any other. I have a short barrel rifle with an overall length of 20 inches fully collapsed, clear up to my competition rifle with an overall length of 40 inches, and they can get even longer than that! Before you even begin to consider your case options, you'll want to measure the overall length of your rifle (preferably with the stock collapsed) to figure out what size of case you will need.
Soft or Hard?
The next thing you will need to decide on is if you want a soft or hard case. This is going to be entirely dependent on how you built your rifle, where you plan on taking it, and how you plan on transporting it. If you plan on taking it on an airline, for example, you are required to have a good, lockable hard case. Even though I have never flown with my firearms, I still personally prefer a hard case for several reasons. For starters, a hard case will protect your firearm from impacts such as being dropped much better. This is an absolute must if you have a scope on your rifle, as frequent drops can easily knock your optic off zero even with a good mount. I also find them easier to stack and overall of significantly higher quality than the soft cases.
For many people, however, a good hard case just might not be in their budget. Soft cases are not only cheaper but oftentimes come with a multitude of other features. While hard cases usually only feature barely enough room for your rifle, soft cases will usually have extra pockets on the outside to store mags and ammo. While they may not protect your rifle from being dropped or tossed around, they do a fantastic job of keeping it from getting scratched and dinged up. If you've got a basic build with iron sights or a plain old red-dot, a quality soft case may be the way to go.
Hard Case Features
One thing I really like to look for in a hard case is a custom-cut foam insert. This is a fairly common feature on most hard gun cases, and it can really take your simple rifle case up to the next level. This will ensure that your rifle stays exactly where you want it to be and will remain perfectly cradled in a soft foam blanket for the entire trip. Also, it just plain looks cool. These cases usually feature one of two types of foam inserts: pluck foam, or cut foam. Pluck foam inserts are scored into small squares already, and you simply pick out the foam in the shape of your rifle. This is a very quick and easy method. they also make solid foam inserts that require you to cut out the shape of your rifle, but those are much harder to use, although they do look better.
Another neat feature of hard cases is that they're lockable. While it is possible to lock soft cases, it ends up being very insecure. If you are hoping that your case can pull double duty as a kid-friendly storage option in your home, then you will definitely want to go with a hard case. Some cases even come with a lock integrated into the case, as well as holes for an external lock!
If you're planning on transporting multiple or unusually heavy guns, you can often find hard cases with wheels. this can make toting your guns around a lot easier, particularly if you shoot primarily at indoor ranges. Wheeled cases can end up being a bit of a moot point if you have to drag it across gravel, but they can also be very handy if you are flying with your firearms and have to drag them clear across the airport.
Soft Case Features
While soft cases lack the security and durability of hard cases, they are not without their advantages. Even not counting the cheaper price, the best case for you may just be a soft case. For example, soft cases can be much more compact and easier to throw in the trunk of a car than a hard case. This advantage really comes through if you are transporting 2 or 3 rifles. What would require several large, bulky hard cases can be easily done with only 1 soft case. When I look for a soft case, I like to look for something with multiple slots to carry multiple firearms.
Another handy feature of soft cases is that they often feature a sling to allow you to carry your rifle across your back, keeping your hands free. This can be a very "handy" feature if you've got several other boxes of ammo or magazines to transport as well.
Best AR 15 Cases on the Market in 2023
Best Budget Hard Case:
If you're looking to pick up a quality hard case on a budget, then you should check out this all-weather case from Plano. It features a watertight seal with an integrated vent for pressure equalization during air travel, as well as an integrated lock. It also has very durable latches, a pluck foam insert, and a nice sturdy handle. I have the 36-inch model and it is just barely long enough to fit my competition rifle with a 16.5″ barrel. If your rifle is a bit longer though, you could step up to the 42″ model for just a few bucks more.
This may not the absolute highest quality hard case on the market, but it's the case that I trust to get my competition rifle to and from any 3-gun match I shoot (and if you knew how much I spent on that rifle, you'd know this is a huge compliment). I might be a bit apprehensive about taking it on an airplane, but for most normal everyday use, this is a fantastic case.
Pros:
Affordable
sturdy construction
Pluck foam insert
Cons:
I wouldn't trust it on an airplane
Just barely fits a 16″ rifle
Learn More On Amazon
Best Quality Hard Case:
If money is no object and you want the absolute best case on the market, then you'd be a fool not to go with a Pelican case. Pelican is a titan in the protective case industry, with a product and warranty that can't be matched. This case is also loaded with features, from its 3 piece foam insert that ensures a perfect custom fit for your rifle, to the heavy-duty wheels to allow for easy transport, this is a case that certainly won't leave you wanting more. It also features a watertight seal and pressure equalizing valve, as well as a stainless steel locking mechanism.
Apart from the price, the only other possible downside is its 50-inch overall length. This will allow it to pull double-duty as a great case for all your rifles, but it also equates to a lot of wasted space if you only want to transport your AR pistol or short barrel rifle. But the one thing that is for certain is that if you plan on flying with your firearm, this is the case to get.
Pros:
Sturdiest case on the market
Watertight
Unmatched warranty
Cons:
Price
May be too long for shorter firearms
Learn More On Amazon
Best Soft Case:
If you've got your heart set on a soft case, but still don't want to cheap out, then this 36-inch case from Drago may work for you. While it only has a slot for one firearm, this case is very heavy-duty and has ample storage space in its external pouches. It also features webbing for attaching MOLLE gear to the outside, which gives you the ability to attach everything from knives to extra mag pouches. This can be a great feature if you already have a MOLLE vest and you want to be able to swap gear between the 2. One feature that really sells this case, however, is the padded backpack straps. This will allow for easy and hands-free transport wherever you go. If you are set on a quality soft case that is perfect for trips to and from the range, then this may be what you're looking for.
Pros:
Padded backpack straps
Extra storage pouches
MOLLE webbing for additional accessories
Cons:
More expensive than some hard cases
Won't do much to protect from drops
Learn More On Amazon
Cheapest AR-15 Case:
If you spent every penny you had on your rifle build and now have to buy the absolute cheapest case that you can find, then this case from NcStar was made just for you! This case meets the bare minimum when it comes to quality but will still protect your rifle much better than no case at all. It had to cut a lot of quality and features to come in at this price point, but it still has several pockets on the outside to hold magazines and ammo. If you're only looking for something to keep dust off your rifle without dropping a boatload of cash, then this may be what you're looking for.
Pros:
Cheap
Pockets for mags and ammo
Cons:
Low quality
Can be a tight squeeze with a scope and foregrip
Learn More On Amazon
Best AR 15 Case Final Thoughts
At the end of the day, any case is better than no case at all. While I am personally partial to the Pelican line of cases, the price on them is absolutely insane. While I do own several Pelican cases, they were provided to me by my employer. At the end of the day, when I have to spend my own money, my favorite case is the Plano all-weather case. Is it exactly as good as the Pelican? nope. But it's almost as good, and a mere fraction of the price. As long as you're not flying on an airplane, I'll trust the Plano to protect my rifles all day, every day. So now that you have all the information that you need, you can go out and purchase the best gun case for your needs today!
Thank you for visiting Reloadingpresso.com! If you like any of the products that you see in this article, please click on one of the BUY NOW buttons to make your purchase on Amazon. As an Amazon affiliate, we make a small commission off any purchase made through our website. This commission is how we can provide you with informative articles. You will not pay more on Amazon if you click through our website because the price is the same. For more great products and information about guns, check out our Reloading Buyers Guides!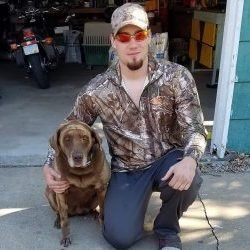 Dan is an avid outdoorsman and shooter who developed a passion for firearms at an early age. When you can't find him in the field chasing birds or big game, you can find him at the range shooting various competitions such as 3-gun, IPSC, and IDPA. He also enjoys manufacturing his own ammunition, as well as both working on, and building his own firearms. Dan has many years of firearms experience, and enjoys helping people find the right gear and sharing his extensive firearms knowledge.