If you're like most budget AR-15 builders, you are probably wondering what tools you really need in order to complete your first build. From reaction rods to vice blocks to slave pin sets, the market today is absolutely saturated with products that are marketed to make your build go even faster and easier. While an armorers wrench is technically one of those tools that you can make do without, trying to do a build without one will certainly be much more difficult than it needs to be. If you only plan on doing one build and leaving it at that, you may be able to make do. But as any AR-15 builder will tell you, there is no way you'll be able to stop at just one! So if you really want to finish your build right and make your life much easier, keep reading to find out all about the best AR-15 armorers wrenches in 2023!
Short On Time? Here Is The Bullet List:
Suggestions for the Best AR 15 Armorers Wrench
**Below are our more detailed reviews. Click the links above to see current prices or read customer reviews on Amazon.
What's all in an Armorers Wrench?
If you don't know what you're looking at, an armorers wrench can seem like just a very confusing strip of metal. However, what most people would think is a worthless piece of scrap metal is actually chock full of helpful tools! For starters, just about every good armorers wrench is going to include a barrel nut wrench. This is usually the half-circle cutout at the very end of the tool. While this is primarily designed to fit the barrel nut that goes with the standard delta ring, it will also fit many other free float handguard barrel nuts as well.
The other great feature you will find on almost every armorers wrench is a square cut out for a half-inch drive torque wrench. If you plan on building your own upper receiver, then you probably already know that torquing your barrel nut is an absolute must. This handy feature allows you to use the wrench to properly install your new barrel nut as well.
The other feature that I find myself using on a very regular basis is the tool for installing and removing the castle nut. I have been able to make do with a pipe wrench or slip-joint pliers for this in a pinch, but not without extensively marring my castle nut in the process. If you care about the looks of your finished rifle at all, then purchasing an armorers wrench for this reason alone is well worth the price.
While the three features listed above are the main reasons to purchase an armorers wrench, there are also a couple of other handy features that are included with these tools. you will also have a square notch cut out for removing or installing muzzle devices, and some will even include a Phillips or flat head screwdriver bit on the very end. You will also usually find a few cut-outs to aid in working on the stock, and some models even include a bottle opener or a strike face to use as a hammer!
What to Look for in Your Armorers Wrench
Quality
First and foremost, you should look for a good, high-quality tool. You certainly won't have any trouble finding cheap pot-metal imported tools from china, but these tools are rarely up to the task. While you can make them work if you're careful, I have had these cheap tools break when I really try to crank down on my castle nut. If you plan on purchasing a tool that will last a lifetime, stick to a well-known brand from a reputable company that will back up their product.
Quantity of Tools
Even not all of the high-quality tools are created equal. While just about every wrench will include the specialty tools you need to assemble your rifle, some of them will also include a few extra tools and features that will make your life easier. If you are less concerned with price, then getting the quality wrench with the most features will certainly make your life easier.
Will it Fit Your Barrel Nut?
While this may seem like a no-brainer to most people, it's certainly important to remember to check if your wrench will fit on your barrel nut. With so many manufacturers getting into the AR-15 game, it's impossible to make a single wrench that will fit every single style of barrel nut available. In fact, I've built quite a few rifles where my armorers wrench was of no help at all when it came time to install the barrel nut. If this is your main reason for purchasing an armorers wrench, you will want to make sure that it will fit your barrel nut before purchasing.
Best AR 15 Armorers Wrench in 2023 Recommendations
Best Torque Wrench Combo:
If you're just getting into the AR-15 building game, then odds are you don't have a torque wrench just laying around. If that's the case for you, then you might be able to save a few bucks by buying this Wheeler Delta combo kit. Since your barrel nuts must be torqued properly, trying to install one without a torque wrench is never a good idea.
While this may not be the most aesthetically pleasing tool out there, it will certainly get the job done just as good as any other tool out there, and wheeler is a well-known, quality brand in the gunsmithing equipment game. And since this combo kit also includes a few screwdriver bits and cutouts to install muzzle devices, this single tool will be almost all you need to complete your AR-15 build.
Pros:
combo kit includes torque wrench
affordable
Cons:
not aesthetically pleasing
not as many tools as other wrenches
Check Price
Most Feature-Packed Wrench:
If you are looking for a wrench that is packed with cool features that might make your life easier, then this wrench from Tapco might be a good option for you. For starters, this wrench checks all the boxes when it comes to the essential tools that you need. You'll have no problem using a torque wrench to install your barrel nut, or really crank down on your castle nut. You can also swap out your muzzle devices and use the attached flat head screwdriver to tighten down any loose screws.
With this wrench from Tapco, you will also get a few other tools that you might find handy. The handiest of all these is hands-down the strike face to be used as a hammer. Like most people, I find myself using anything I have handy as a hammer when I need one in a pinch. With this tool from Tapco, you won't have to worry about not being able to find a hammer when you need one. You'll also find a bottle opener, and a nice set of finger grooves to give you a comfortable grip as you tighten down on your castle nut. If you're looking for a decent tool at an affordable price, then this may be the tool for you.
Pros:
Lots of features included
comfortable grip
Cons:
Not the most reputable manufacturer
cutout for the torque wrench is several inches from the barrel nut wrench
Check Price
Highest quality Armorers Wrench:
If you're not afraid of spending a little money to get a higher quality tool, then you may want to check out this armorers wrench from Magpul. If you have spent any time looking at accessories, you probably know that Magpul is one of the most well-known names in the industry, with the quality and service to back it up. If you purchase this wrench from Magpul, you will have no doubts that you're getting a quality product.
In addition to the quality, you will find that this tool has all of the basic features you need to build or disassemble your rifle. You have your basic barrel nut and castle nut wrench, as well as a muzzle device wrench and slot for a torque wrench. You will also find two separate strike faces to be used as hammers. While this may not be as feature-packed as some of the other options, it will still get the job done for years to come with its quality and reliability.
Pros:
Quality
Includes a strike face for a hammer
Cons:
Expensive
Not as many features as other options
Check Price
Ultimate Budget Option:
If you bought an oddball handguard with a barrel nut that doesn't fit a standard armorers wrench, the only real tool that you need on a standard wrench is the castle nut spanner wrench. If this is the case for you, then you can save quite a bit of money by purchasing just a spanner wrench!
While this is only one tool with no special features, it won't be any less effective at tightening your castle nut. If you need to purchase a specialty wrench for your barrel nut anyways, this might be a good way to help recoup some of that cost on the only other tool you really need.
Pros:
Cheapest option
All you need if you already have a barrel nut wrench
Cons:
No extra features
Only 1 single tool
Learn More On Amazon
Best AR 15 Armorers Wrench Final Thoughts
If you're new to the AR-15 game, one of the best favors you can do for yourself is to purchase an armorers wrench. While it may not seem like much now, this is one tool that will prove invaluable in many occasions throughout your building process. While all of the tools listed will certainly get the job done, the armorers wrench from Tapco will certainly be your best bet. It may not be bombproof, but it's comfortable, easy to use, feature-packed, and very affordable. The Tapco armorers wrench will certainly be a welcome addition to your gunsmithing toolbox. Now that you have all the information you need, it's time to go out and buy the perfect armorers wrench for your needs today!
Thank you for visiting Reloadingpresso.com! If you like any of the products that you see in this article, please click on one of the BUY NOW buttons to make your purchase on Amazon. As an Amazon affiliate, we make a small commission off any purchase made through our website. This commission is how we can provide you with informative articles. You will not pay more on Amazon if you click through our website because the price is the same. For more great products and information about guns, check out our Reloading Buyers Guides!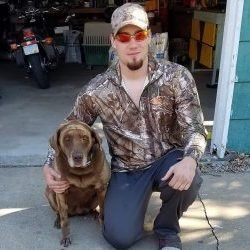 Dan is an avid outdoorsman and shooter who developed a passion for firearms at an early age. When you can't find him in the field chasing birds or big game, you can find him at the range shooting various competitions such as 3-gun, IPSC, and IDPA. He also enjoys manufacturing his own ammunition, as well as both working on, and building his own firearms. Dan has many years of firearms experience, and enjoys helping people find the right gear and sharing his extensive firearms knowledge.