If you are looking for a good variable power scope to give you a tactical edge at the range or your next 3-gun competition, then the Vortex Strike Eagle is for you. Whether you are a budget conscious competition shooter or simply looking to create a tactical AR-15, then this scope is something to consider. The Vortex Strike Eagle varies in power from 1x to 6x and has a 24mm objective lens. The Bullet-drop compensating reticle is illuminated for better shooting in low light and adjustable in ½ MOA clicks. The scope also provides an eye relief of 3.5" and a field of view ranging between 116.5 feet to 19.2 feet at 100 yards. These features make this optic very popular among competition shooters and sportsmen alike. For more information, keep reading our Vortex Strike Eagle 1-6×24 Scope Review.
Before You Buy
While this optic is an excellent general use and competition scope, it is not for everybody. If you are looking for the proverbial "gold standard" of competition optics and have pockets deeper than the Mariana Trench, then there are better options out there for you. Additionally, if your primary use is going to consist of hitting small targets at extreme distances or dropping a trophy buck in the last few minutes of legal light, you should probably be looking elsewhere as well.
Simply put, a 24mm objective lens will not gather enough light to allow you to shoot more than 15 or 20 minutes after sunset, and a 6x magnification will not allow you to drive tacks at a thousand yards. Furthermore, this optic does have a few downsides that you will not find on the models costing two, three, or even four times as much. However, if you are looking for a quality short to mid-range optic that will perform way above its price point, then you will most certainly not be disappointed in the Vortex Strike Eagle.
Vortex Optics is a relatively new brand that has strived to provide riflescopes, rangefinders, red dots, and other optics and gear that are both high quality and affordable. Almost all their products perform well outside of their price range and provide an excellent cost to quality ratio for the consumer. Additionally, all their products come with their VIP warranty, which will repair or replace any damaged items, no questions asked. This is one of the best warranties in the business and serves as an excellent testament to the quality and customer service that you will receive from Vortex.
Vortex makes some of the best optics in the business, and the strike eagle is certainly no exception. Weighing in at 17.6 ounces with a length of 10.5 inches, you will find that it sits nicely and balances well on top of a standard AR-15. The fully multi-coated lenses increase light transmission, and the second focal plane reticle stays the same size no matter the magnification. While the package includes removable lens covers, lens cloth, and CR2032 battery to power the reticle, it does not include a mount, so that will need to be purchased separately. In my personal experience, this scope pairs nicely with the 2-inch offset Vortex cantilever ring mount for a 30mm tube.
Pros:
Affordable price
2x more zoom than the standard 1-4x
VIP warranty
Illuminated reticle
Good quality
Cons:
Not as clear as the higher quality scopes
24mm objective lens
No auto off feature for illuminated reticle
Zoom adjustment can be stiff
Features and Benefits
Power Range
First, let's look at the main selling point for the Vortex strike eagle: it's power range. Historically, variable power scopes have only been able to have a power range of 4 times the minimum power. This would mean that a scope with a minimum power of 4x would have a maximum power of 16x and that the same scope with a minimum power of 1x would have a maximum power of 4x. If you look at the market for popular competition scopes, you will see that there are a plethora of 1-4x options. This is primarily what sets the strike eagle apart from the competition.
The 1x setting allows you to keep both eyes open for a wider field of view and more situational awareness as well as allowing for faster target acquisition and follow-up shots. But crank it up to 6x, and it gives you a significant advantage over the lower power optics when it comes to the long-range stages. Additionally, if you choose to add a quick throw lever you will be able to rapidly adjust the magnification, which I have found to be very handy in 3 gun competitions that require both long and short range shooting in the same stage.
Focal Plane Reticle
Next, we will look at the second focal plane reticle. Magnified optics have 2 types of reticles, first focal plane, and second focal plane. A reticle on the first focal plane will increase in size as the zoom is adjusted. This typically means that when the scope is at its minimum power, it will be significantly smaller and harder to see. This can be a huge problem in sports like 3 gun, where rapid target acquisition is paramount, and spending the extra time to find a tiny reticle just simply will not do if you want to be competitive. The one benefit of a first focal plane reticle is that the hash marks for bullet drop compensation will always be accurate no matter the magnification.
A reticle on the second focal plane, however, stays the same size no matter what the magnification of the scope is. This, coupled with the illuminated reticle, allows for rapid target acquisition and follow-up shots at any distance. However, this does mean that the hash marks for bullet drop compensation are only accurate when the scope is at its maximum power (6x). This is very rarely a problem though, as the only time you would need to use the BDC hash marks is when you are shooting at longer distances, where you would want the scope to be at maximum power anyway. For most competition and range shooting, a second focal plane reticle is going to be ideal.
Extras
Additionally, the vortex strike eagle has all the bells and whistles found on much higher end optics. The fully multi-coated lenses allow maximum light transmission and the single piece tube made from a solid block of aircraft-grade aluminum offers excellent accuracy and strength. As with many other optics, the strike eagle is waterproof, fog proof, and shockproof due to its O-ring seals, solid construction and nitrogen gas purged internal components. Finally, hunters and sportsmen will appreciate the hard-anodized finish, which is not only durable but cuts down on glare that may spook game in the field.
Warranty
The final main selling point of the vortex strike eagle is the warranty. Simply put, there is no better warranty in the business. It does not matter where you purchase this optic from, and there is no warranty card to fill out or paperwork to keep. This warranty is simple and easy: if it is broken, they will fix or replace it. Period. If it is important to you to have a quality product that the company will stand behind, then you will not be able to beat vortex's warranty. In this day and age of companies doing whatever they can to make an extra buck, Vortex Optics goes above and beyond when it comes to customer service and taking care of the consumer, even after the sale.
Social Proof
The vortex strike eagle is a popular optic among many shooters, as can be seen in many reviews submitted across many websites. In fact, you will be hard-pressed to find many negative reviews at all.
Alternatives
If you are not quite sold on the strike eagle, or you think that it does not quite meet your needs, there are plenty of other options for you.
The 1-8x strike eagle offers the same high-quality scope, but with a slightly higher maximum magnification (and higher price). Coming in at about $260 more than the 1-6x version, the 1-8x strike eagle is significantly more expensive. This may be a good optic to consider if you are doing even longer range shooting and need a higher magnification.
The 1-6x version comes in just shy of $2000, but you will be hard-pressed to find anything of better quality. There is a noticeable difference in quality, but for many on a budget, it will be hard to justify the large price increase for the mediocre improvement in quality.
Vortex Strike Eagle 1-6×24 Scope Final Thoughts
In conclusion, the 1-6x Vortex strike eagle is an excellent quality optic that performs well above its price. Whether you are wanting to perform well in shooting competitions in the morning, drop coyotes from across the field in the afternoon, or hit bullseyes at the range in the evening, this scope will simultaneously suit your needs and not break the bank. With the strike eagle, you get a high-quality optic with many of the features of the more expensive scopes, an extra 2x magnification over the standard 1-4x optics and the best warranty in the business at a price that can't be beaten anywhere. If it is important to you to get the best scope possible without breaking the bank, then you will not be disappointed with the strike eagle.
Thank you for visiting Reloadingpresso.com. If you like any of the equipment that you see in this article, please click on one of the Buy Now buttons to make your purchase on Amazon. As an Amazon affiliate, we make a small commission off any purchase made from a click through from our website, which is how we are able to provide you with these informative articles. You will not pay more on Amazon by clicking through our website because the price is the same as if you go to Amazon directly. We know you are looking for a scope, if this isn't the one for you check out our scope buyer's guides. If you are looking for something else consider our Best Reloading Kit Buyers Guide and our Best Gun Safe Buyers Guide.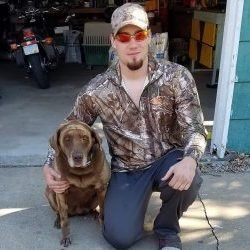 Dan is an avid outdoorsman and shooter who developed a passion for firearms at an early age. When you can't find him in the field chasing birds or big game, you can find him at the range shooting various competitions such as 3-gun, IPSC, and IDPA. He also enjoys manufacturing his own ammunition, as well as both working on, and building his own firearms. Dan has many years of firearms experience, and enjoys helping people find the right gear and sharing his extensive firearms knowledge.